What are kids saying?
"At first I thought I was going to get laughed at because I didn't know how to read that well. But then I felt confident about myself and happy. I know how much I've improved.
Thank you, Becky."
Jonathan, 3rd grader
Seattle, Washington
---
What are parents saying?
"I appreciate Becky's way of listening, and her comments — she's non-judgmental. I feel supported when I expose my less-than-exemplary behaviors, and gently encouraged and truthfully guided to go where I want to go."
Betsy, university professor
Orono, Maine
---
"Thank you so much for everything you have done to help my son with his math. I know that he would not have been able to even look at the assessment he had to take if he had not had his time with you. It was hard, but he persevered and the school offered him a place! They said he did fine! I am in a state of shock. We have been so anxious that we would ever get him back into a London school. Thank you so much. Onwards and upwards!"
Cathy
mother to 4th grader
---
What are other teachers saying?
"Becky's creative teaching strategies and Brain Gym engage even the most reluctant learners. She creates a safe and fun atmosphere for her students, connects them to real world experiences that nurture their passions, and plans activities to build on individual students' distinct learning styles.
"I highly recommend her."
Erin, elementary school teacher
Seattle, Washington
---
What are workshop participants saying?
"Everything in your talk was useful: practicing the physical movements, bringing up a personal situation to apply this to, giving us concrete ways to handle stressful situations in our daily lives. I like that you asked us to think about our own stressors while learning the movements. You left it open so that we could chose something that was relevant and applicable to each of us.
"We would welcome you back to do more sessions!"
Kenneth, Brain Gym® workshop participant
Seattle, Washington
---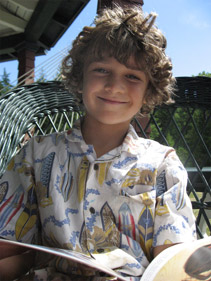 "There is something magical in her approach to kids."
"He did fine!
I am in a
state of shock."
"I feel confident about myself and happy..."